Every February 15, the global childhood cancer community celebrates International Childhood Cancer Day (ICCD), in a collaborative campaign to raise awareness about childhood cancer and to express support for children and adolescents with cancer, the survivors and their families.
Childhood cancer in the Region of the Americas and in the world
Cancer is a leading cause of death for children and adolescents around the world. Each year more than 400,000 children are diagnosed with cancer globally. In the Region of the Americas, there were an estimated 32,065 new cancer cases in 2020 in children 0 to 14 years old; of them, 20,855 cases in Latin America and the Caribbean.
It is estimated that Cancer was the cause of death of 8,544 children under 15 years old in 2020; of them, 7,076 in Latin America and the Caribbean.
The vast majority of the children with cancer live in low and middle-income countries (LMIC), where they face unacceptable inequities in early detection, diagnosis, and access to quality treatment and palliative care. The inferior outcomes suffered by children in LMIC are a threat to social cohesion, economic prosperity and achievement of global targets included in the 2030 UN Agenda for Sustainable Development.
Global Initiative for Childhood Cancer (GICC)
In September 2018, WHO launched the Global Initiative for Childhood Cancer (GICC), with the objective of addressing these profound inequities, The target is to achieve at least 60% survival for children with cancer by 2030 and to reduce suffering for all.
To save lives and reduce suffering of children with cancer, this initiative seeks to
increase countries' capacity to provide quality services for children with cancer
prioritize childhood cancer nationally, regionally and globally to spark action
A technical package, CureAll, will guide the countries as they carry out the Global Initiative. CureAll is planned to be launched on the International Childhood Cancer Day, on 15 February, 2021.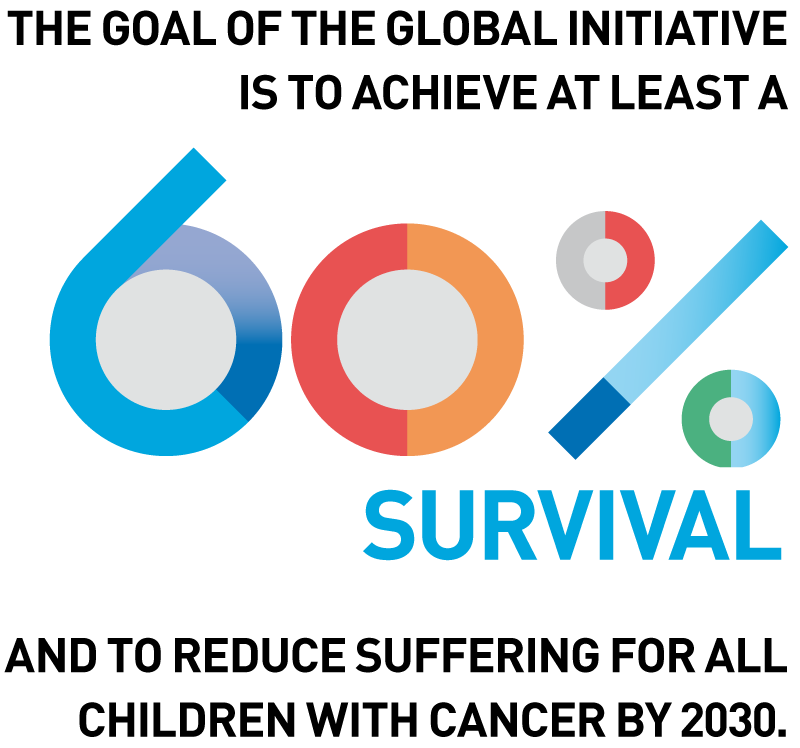 The World Health Organization (WHO) Global Initiative for Childhood Cancer aims to improve outcomes for children with cancer around the world. The goal is to give all children with cancer the best chance to survive, to live full and abundant lives and to live and die without suffering. Working across borders, sectors and disciplines, we can create a better future for children with cancer.
A suite of tools to help countries improve diagnosis and treatment of cancer among children was released by the World Health Organization, on International Childhood Cancer Day. The package includes a "how-to" guide for policy-makers, cancer control programme managers and hospital managers; an assessment tool to inform implementation; and a multilingual online portal for information-sharing.
The St Jude´s Global COVID-19 Observatory and Resource Center for Childhood Cancer is for health care professionals focused on pediatric cancer. The resource provides a way for providers to collaborate, connect and find the latest information on COVID-19 as it relates to childhood cancer.
Health care professionals can access a collection of current resources and a pediatric cancer registry with real-time results.
Early diagnosis: 
In recent years, very important advances have been made in the treatment of childhood cancer, achieving an increase in patient survival rates. But given the complexity of current therapeutic procedures, children with cancer should be referred as early as possible to centers that have specialized human and technical resources, and where they are treated by personnel trained in pediatric onco-hematology. Therefore, it is key that parents and healthcare personnel know the first signs and symptoms and are attentive to act upon their appearance.
Early Diagnosis of Childhood Cancer helps primary care providers to identify the early signs of cancer.